Coaching
I offer three types of coaching:
Vocal Coaching
See also 'Lessons' for additional information. This coaching is for singers who feel confident technically, and want to focus on repertoire choices and performance preparation.
Creativity Coaching
What is creativity coaching? This is not a voice lesson or vocal coaching--and you do not need to be a singer! This coaching is for you if you are facing personal or professional challenges in your creative life.
Are you a writer who can't seem to start (or finish) your novel? Has a shift from working mainly in person to working mainly online been affected your creative work? Are you an artist who has achieved commercial success but feels unfulfilled creatively (or vice versa)? Do you find that your inner critic or fear of sharing your work often gets the best of you? Do you struggle to practice your craft regularly or follow through on your ideas after an initial burst of inspiration?
If so, I can help. I draw upon my understanding of the creative process and my deep desire to help others achieve success and fulfillment in their creative endeavors.
Anna has been recognized as one of the Top Creativity Coaches by Coach Foundation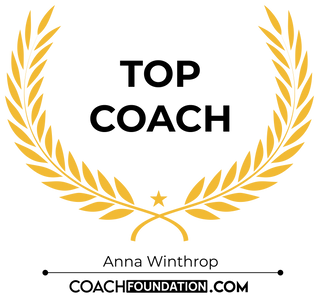 Personalized Coaching
This is coaching that is tailor made for you if you feel your needs do not fit into one service I offer or you would like to combine different services. While I am a voice teacher and creativity coach, I also can help with acting, songwriting, branding, audition preparation, career guidance, music production, online work and more.
How to Get Started:
If you are interested in pursuing Creativity Coaching or Personalized Coaching, the first step is to reach out to me at me@annawinthrop.com and tell me a little about your situation.
If I think I can make a real difference we will set up an initial coaching session. It may be that you just want or need one session to get some tools you can try, or advice on a problem you are facing. Or it may be that you would like and could benefit from more consistent coaching. If this is the case we will come up with a schedule that works for you going forward.
I can't wait to hear from you and help you achieve your goals!